Using a PC
Connect your iOS device to your computer with a USB cable, then open iTunes and select your device.
Click Summary on the left side of the iTunes window.
Select "Sync with this [device] over Wi-Fi."
Click Apply.
iPhone Sync to iTunes over Wi-Fi
If connecting your iPhone to your Mac via a cable feels like a strait jacket, you can now break free by setting up a sync through your Wi-Fi connection. That's right, no more looking for cables. If only we could charge this way as well…hey Apple, what are you waiting for?
There is a downside to this freedom; the speeds won't be as fast as when connected with a cable. But if you value convenience over speed, let's get to the steps you'll need to setup wireless iPhone sync with Mac.
Unfortunately you'll need your USB cable to set up Wi-Fi syncing for the first time.
Connect your iPhone to your Mac via your cable.
Launch iTunes and click on the iPhone icon.
Click on the Summary tab.
Under Options check the Sync with this iPhone over Wi-Fi box and click Apply.
Now you can remove the cable. Freedom is at hand!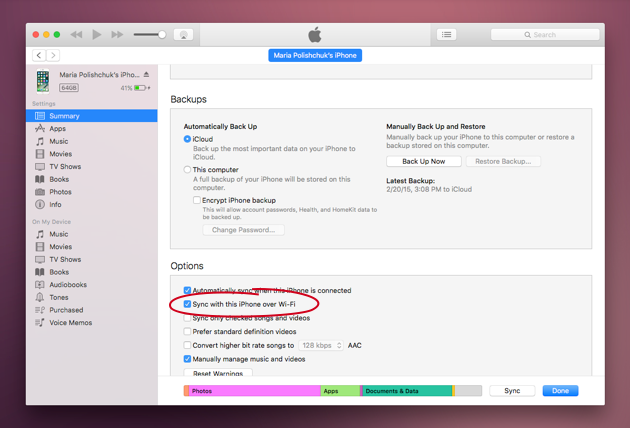 That's it. Now, in future, when your iPhone connects to the same Wi-Fi connection it will be available for syncing in iTunes.
Now go ahead and throw that iPhone cable in the trash!*
*Don't do that. That's a terrible idea.